Save your map project in Excel
The most wanted feature in Excel E-Maps is available now in E-Map Pro. Save your map layers, points, heatmap, thematics in a Project file.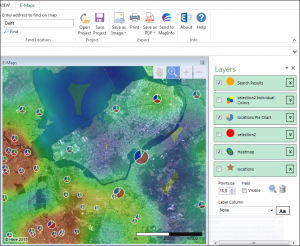 The project file (a file with 'emp' file-extension) stores information on your Excel spreadsheet, the tab you geocoded, and from release 2.0.5 it even stores drawn objects.
When you open your project file, E-Maps will generate the map layers by automatic geocoding, create thematic shading, plot the labels and will generate the drawn objects in the drawing layer. Using the Project saves you time and reproduces the same maps as you had before.
See how the Project works on youtube.