Image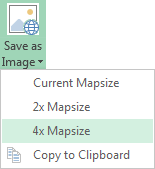 To export the generated map as an image, select the Save As Image button.
The image has the same size as the map window. You can also save the image in larger formats in the Pro version (2x or 4x the resolution).
Labels and points will appear smaller on the high resolution images, so the settings have to be changed accordingly.
Assign a name to the image, select a file format and click Save.
The image is now successfully exported.
Clipboard
E-Maps allows you to copy a generated map to your clipboard and to paste it in the Excel sheet.

To use this functionality, use the Copy to Clipboard button.
The image is now saved to your clipboard. Right click anywhere in the Excel sheet and select Paste options:

from the menu.
The map is now inserted to your document.
Print
To print a map generated from click the Print button.



Select a printer and click OK.
PDF

A map can not only be exported as an image, but also as a PDF file. Use the Save as PDF button.
Enter a name and a location and click Save. The map is now saved as a PDF file.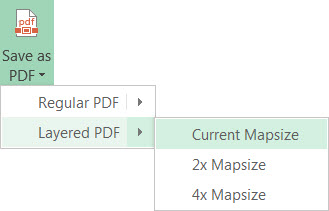 If you have the E-Maps Pro or Advanced version, you will also have the possibility to export tour map to a layered pdf. All your visible layers in the map will be exported as an individual layer in the pdf file. Which allows you to switch layers on and off within Adobe Reader. Ideal for sharing maps with others!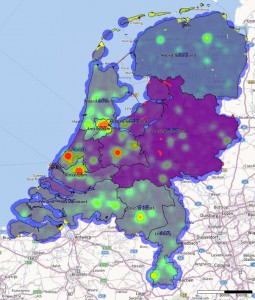 Click on the image for an example of a layered PDF. Save the file to view the layers.