Step-by-step explanation for installing E-Maps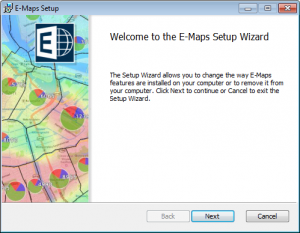 After you acquired E-Maps through the webshop or direct download, you can start installing E-Maps_2_x_x_x.exe.
The file is a self-extracting installer. Click on the file and the installation will start. An installation window opens (see image on the left).
The progress is shown in the setup window.
E-Maps is an Excel plug-in. Therefore Microsoft Office will ask for permission to install this adjustment.
Click Install to continue with the installation.
Note: read our License Agreement before downloading and using Excel E-Maps.